Gas & Smoke
AutoGas® 5 Gas Analyzer dan AutoSmoke® Opacity Meter, dioperasikan dengan tenaga 11V to 16V DC battery atau tegangan listrik 220VAC, untuk mengukur kandungan gas buang dan memberi menampilkan secara real-time seberapa efisien sebuah kendaraan dalam mengurangi jumlah gas polutan yang dilepaskan ke atmosfer.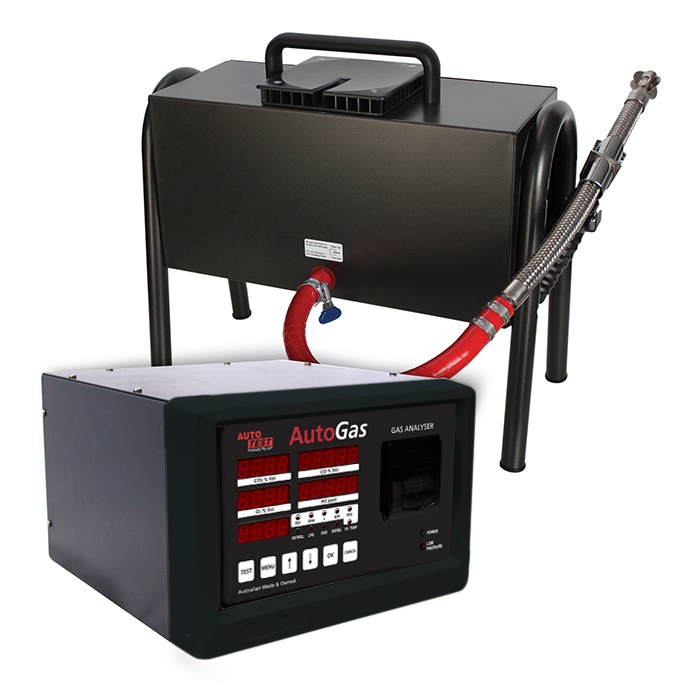 Kombinasi AutoGas® 5 Gas Analyzer dan AutoSmoke® Opacity Meter dari AutoTest Pty Ltd adalah alat uji emisi dengan teknologi tinggi untuk menganalisa dan mudah diguankan alat ini dirancang untuk meningkatkan cara pengukuran efisiensi hasil pembuangan bahan bakar kendaraan bermotor. Dengan kualitas dan teknologi tinggi alat ini dapat difungsikan untuk keseluruh kendaraan bermotor yang menggunakan bahan bakar seperti Gasoline, LPG, CNG dan Diesel.
Specification
Battery Test
Charging System Test
Start System Test
Maximum Load Test
Cranking Mode
QC Mode
Standard Accessories
Sampling probe assembly for gas intake
Sampling probe assembly for smoke intake
Battery cable assembly
Wireless OBD interface
Oil temperature probe
AC Power Cable
Filter-filter
Standar Mutu: OIML R99 (ISO 3930) Class 0
Gasoline: CO, HC, CO2, O2, NOx, Lamda/AFR
Opacity: N value %, K value m‾¹
RPM/OIL Temperature
Perangkat gabungan mencakup koneksi nirkabel internal antara AutoGas® 5 Gas Analyzer dan AutoSmoke® Opacity Meter. Alat uji emisi model AutoSmoke dapat dihubungkan dengan menggunakan PC yang terhubung ke Gas Analyzer, yang memungkinkan Anda membaca data pengukuran di layar dengan mudah.
Meskipun produk baru itu sendiri sederhana, ia hadir dengan semua probe, lead, dan antarmuka OBD nirkabel yang diperlukan sebagai perlengkapan standar.
Features :
Suitable for Petrol, LPG and CNG diesel engines
Capable of measuring CO, HC, CO2 NDIR Sensor, O2 and NOx Chemical Sensor
Measuring range for opacity N value %, Koefisien m‾¹ Light Detector 560nm
Communication connector
A comprehensive vehicle emissions testing solution.
Complies with the OIML R99 (ISO 3930) Class 0 specification
Optional custom made trolley for easy use and storage
Compatible with AutoTest's Bluetooth printer and Printer Paper Pack
Distributed through leading distributors, including Bursons, Triple Torque, Collery Deisler and Autoequip Australia
AutoGas® 5 Gas Analyzer dan AutoSmoke® Opacity Meter dari AutoTest dirancang untuk menanggapi kebutuhan yang terus meningkat dari berbagai sistem dan jaringan dalam bisnis pengujian/perbengkelan, yang bertujuan untuk meningkatkan efisiensi kerja dan tingkat layanan yang diberikan kepada pengguna mobil.
5 Gas Analyzer dan Opacity Meter adalah bagian dari rangkaian produk permintaan pasar terbesar peralatan yang disetujui yang ditawarkan oleh AutoTest.
Optional Accessories
Accelerometer sensor pick-up
Inductive pick-up and cable assembly
Gas test software for PC interface
NO× sensor
RS232 to USB Adaptor
Diesel filter for diesel engine testing
Optional custom made trolley for easy use and storage
Trolley
Gas & Smoke test software for running and storing tests on PC