Alat Uji Getaran Tanah
AutoTest® AutoBlast™ adalah perangkat pemantauan dan pencatatan getaran tanah. Ini dapat digunakan dalam berbagai aplikasi Teknik Sipil seperti pemantauan getaran industri, pemantauan getaran lalu lintas transportasi darat, pemantauan lokasi konstruksi, kebisingan, dan pemantauan getaran di zona peledakan. Ini juga berguna di bidang Teknik Gempa untuk memantau struktur bangunan, jembatan, dan bendungan.
Pengukuran dilakukan menggunakan paket sensor kecepatan (geophone) dan level Air Overpressure menggunakan mikrofon, menyimpan data ke dalam penyimpanan memori internal, yang dapat diunduh ke PC melalui Bluetooth. AutoBlast™ bisa dikonfigurasi untuk melakukan operasi pemeriksaan sensor sebelum pemantauan mulai dilakukan pastikan sensor berfungsi dengan baik.
Features :
History recording and Bluetooth capability to PC
Events exceeding a threshold value are logged automatically
Alarm notification: light signal or siren, as well as notifications sent by Email or SMS
Built-in modem
Fungsi: AutoBlast™, adalah perangkat pemantauan dan pencatatan getaran tanah akibat pergeseran dan akibat ledakan
Rekaman: Waktu rekam 21 hari (dengan interval 5 detik) untuk 4 saluran, Waktu rekam 30 hari (dengan interval 7 detik) 270 hari (dengan interval 1 menit)
Peristiwa direkam secara otomatis saat tingkat pengukuran kebisingan getaran melebihi nilai ambang batas, dan alarm dapat dibunyikan. Ini bisa berupa alarm tambahan (yaitu sinyal cahaya atau sirene) serta pemberitahuan yang dikirim melalui Email atau SMS menggunakan modem bawaan.
Data terpusat dan dapat diakses yang secara otomatis menghubungkan hasil ledakan ke desain ledakan. Pengguna yang berwenang dapat mengakses dan menyelidiki dari jarak jauh, hingga ke tingkat lubang ledakan. Secara historis, data terkait ledakan disimpan untuk mendukung persyaratan data yang dapat diaudit.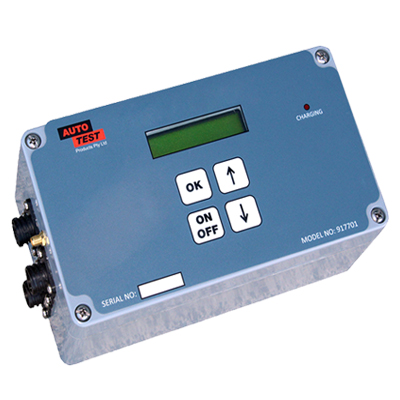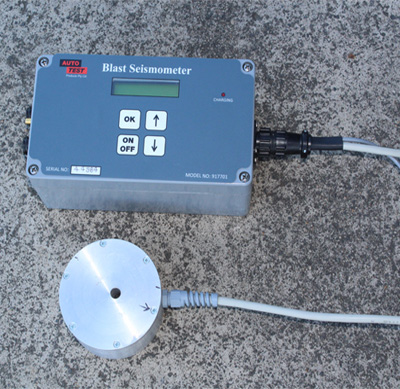 Specification
Vibration

Range: Up to 250 mm/s
Resolution: 0.0077 mm/s
Accuracy: ± 5% or ±0.5 mm/s
Frequency range: 1 to 180 Hz
Acceleration: Calculated from captured waveform
Trigger levels: 0.13 to 250 mm/

Air Overpressure Monitoring

Weighting scales ISEE Linear
Range 88 to 145 dB (500 Pa peak)
Resolution 0.0152 Pa
Frequency Response 2 to 250 Hz
Accuracy ± 10% or ± 1dB

Trigger level: 100 to 145 dB in steps of 0.1dB
Sampling rate: 50, 100, 200, 400, 500, 800, 1000, 1600, 2000 samples/sec for each channel
Real-time Clock (RTC) Built-in clock with backup battery
FFT Analysis via PC software, Australian 2187.2-1993 Standard
User interface 1x16 character LCD with backlight
Alarm notifi cation Alarm messages via email, SMS and external relay outputs
Auxiliary Relay Output 2 Auxiliary relay outputs 12V 1A (12W)
Battery Capacity Internal 6V 7000 mAh
Operating temperature -10o to +70oC
Humidity Up to 90% non-condensing
Supply Voltage 10 – 14 V
Power consumption 50 mA (Standby); 100 mA (Typical)
Dimensions: 180 x 110 x 45 mm